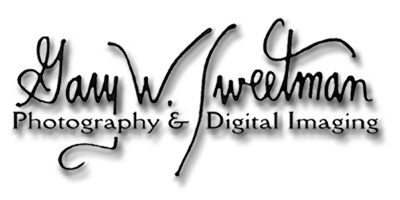 We are flattered to be considered for your wedding coverage, but please note that as since 2011 we only accept weddings for existing clients or close referrals. Feel free to call to see if you qualify. However, we will cheerfully create an engagement session or heirloom bridal portrait (like the one below from late 2018) for new clients as well.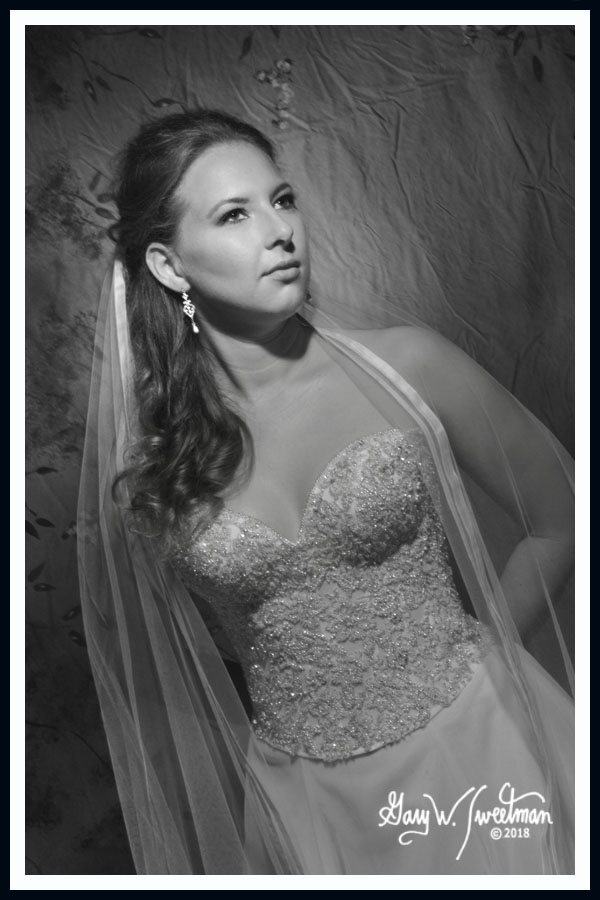 The WeddingWire Bride's Choice Awards ™ recognizes the top local wedding professionals from the WeddingWire Network that demonstrate excellence in quality, service, responsiveness, and professionalism. Unlike other awards in which winners are selected by the organization, the Bride's Choice Awards are determined by recent reviews and extensive surveys from over 500,000 newlyweds. This year's winner: Gary W. Sweetman Photography and Digital Imaging, represents only the top five percent of WeddingWire's vendor community. Congratulations! (and AGAIN in 2012)
Shouldn't your photography be as beautiful as your relationship? It can be. Classic Romanticism....a sophisticated, timeless approach, creating a lifetime of memories, not just "taking" pictures.
Sophisticated. Elegant. Beautiful. Read on...invest a few minutes before you risk your memories.
"I couldn't have had my album done by anyone else! Your reputation for artistry is so well deserved. It was absolutely fantastic and worth every penny!" Nathan & Amy 2008. Read more at> What our Brides say about us!
The single most important decision you will make is to choose a photographer through whose eyes you want to remember your wedding day. Months, maybe years, of planning go into it. Countless hours and decisions. A zillion choices..."gee, did I make the right one?" And then it all comes down to a few joyous hours with your new groom surrounded by friends and loved ones. What if you could make that time, that magical time, last longer? You can! Gary W. Sweetman can make it happen. With rocket-speed groups and formals, unobtrusive, yet spontaneous and dynamic candids, and "signature" images that really "tell the story," you'll be amazed! Our philosophy: As important as photography is to your wedding day, it is firstly YOUR WEDDING, and your time should NOT be monopolized by a slow, disorganized, UN-professional photographer. Moreover, your album should be a beautiful representation of your day, the surroundings, the people you love and family. Imagine looking at your heirloom album on your 25th anniversary (with your kids).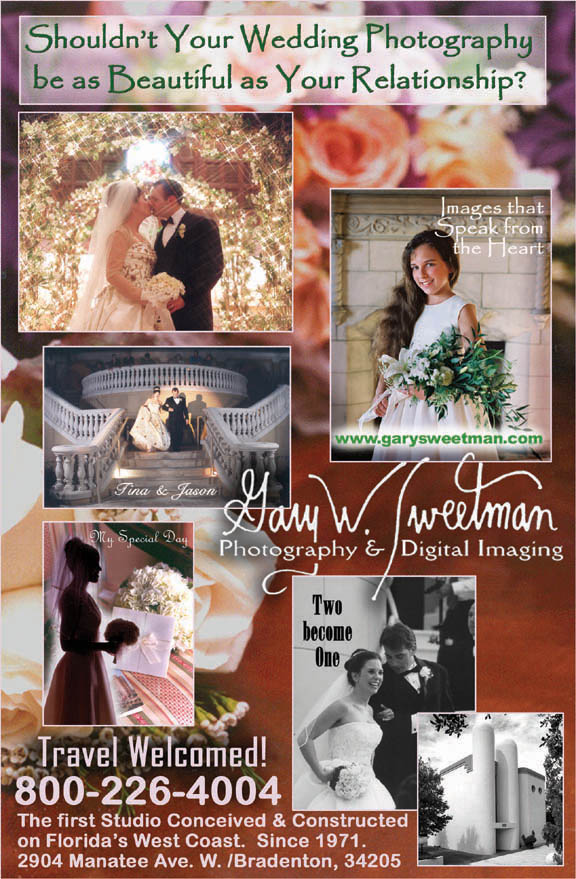 Our ad from The Knot/Wedding pages.
How do you want to remember your wedding? Whether your preference is our "Classic Romanticism" or "Avant-Garde Photojournalism", we can create an heirloom album to be treasured for generations. And speaking of albums...our newest library bound coffee table books are making quite a splash with our brides.
Our "Lifestyle Imagery" depicts the fullness of your relationship by capturing those special feelings of your engagement. Whether toasting on a beach at sunset or horseback riding through a flowery field, these dynamic photos add an extra dimension to your album and are often used on signature boards. Your formal bridal portrait (on the beach, in-studio or other location) will be the hit of the reception when displayed on our gallery easel with museum lighting.
Unlike many photographers, our packages are complete! Your proof book is included as well as an ordering CD with ALL the images at no additional cost. Be sure to see our Album Choices "button" to the left.
Mr. Sweetman's diverse background in fashion, theatrical and illustrative photography gives him a special ability to capture the essence of your wedding in an expedient manner . . . in fact, we're told by those in the know that NO ONE is faster . . . which means more time for you and your guests . . . and isn't that what you really want?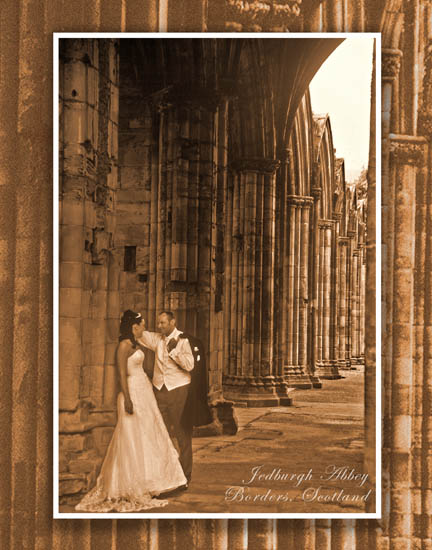 We mentioned travel? How about this Scottish location?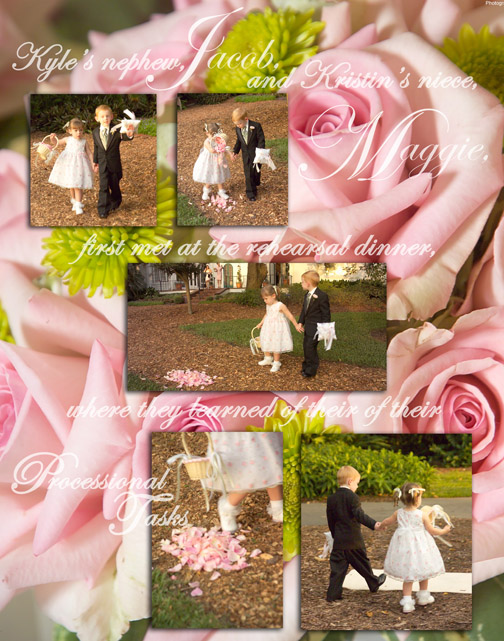 This is an example of a full page composite from our 11x14 Library Bound book.
Want to be impressed? Check out our newest slideshows. We also offer these as a custom widescreen DVD of YOUR wedding.
It's a view of a sample album with music, transitions, and a fabulous look some of our beautiful coffee table books. You will be prompted to install a viewer from photodex.com (free and safe) Click>Wedding Sampler.exe It is a download. You will see other completed single albums at>The Finale! Completed Weddings
Bar or Bat Mitzvah? Click here>Mitzvahs
(But please look through these as well, as our style shows through!)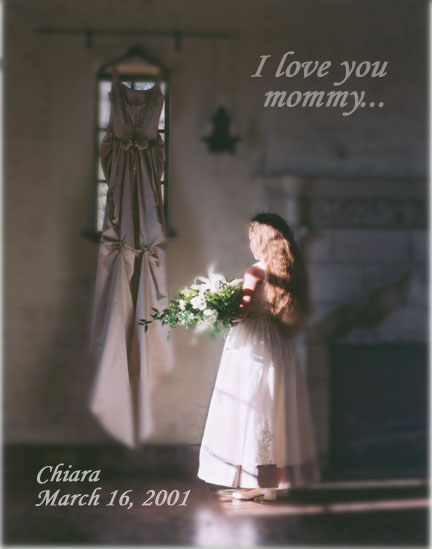 Our bride's daughter, viewing her Mom's exquisite champagne & taupe gown thinks about her own future, pondering her "Prince Charming." This print was given to the bride moments prior to the wedding with the very special message forever etched. Gary's idea and composite digital creation....very happy clients!
We begin with Bridal Portraits....usually photographed about a month before the wedding. These wall-portraits (16x20-30x40) are the hit of the reception as we display them upon a gallery easel in a museum style frame with a gallery light illuminating it.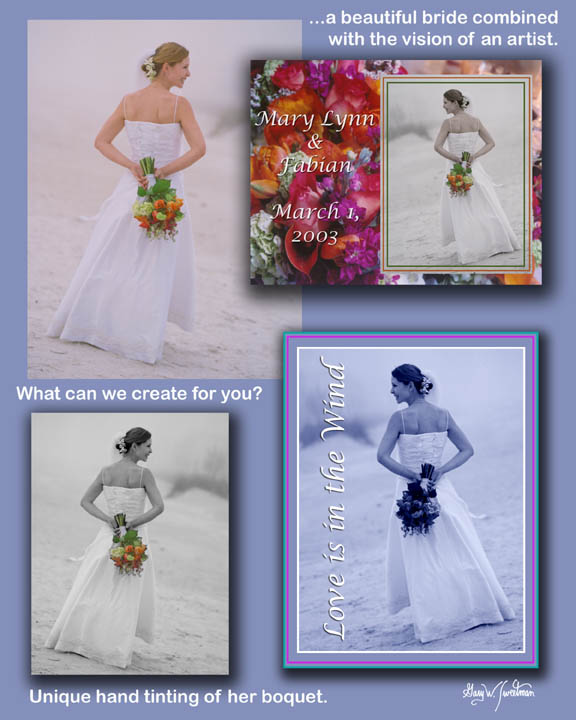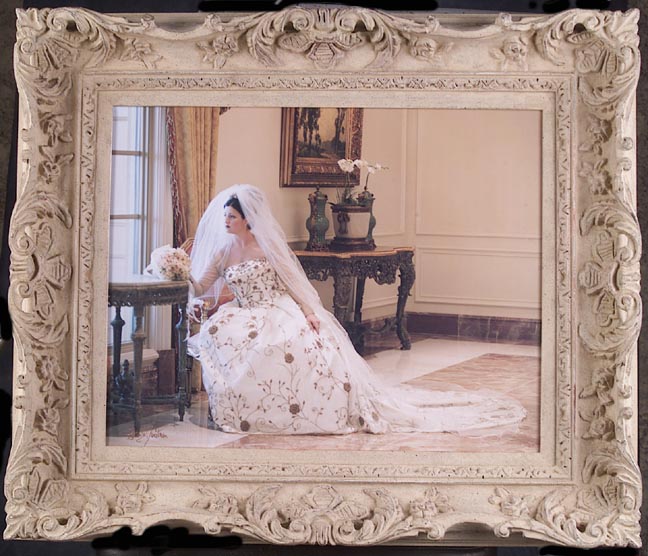 The Ritz Carlton Lobby (her reception was held there) was a perfect location.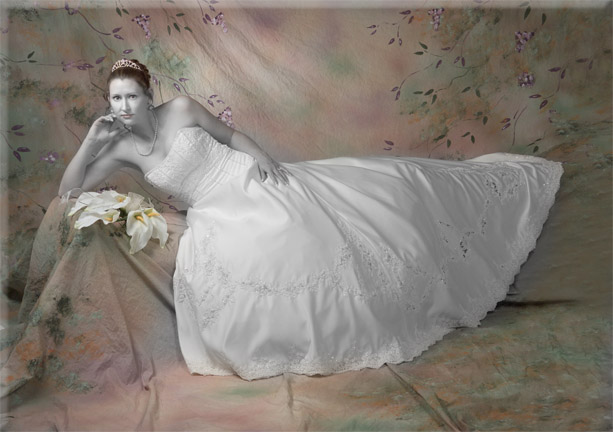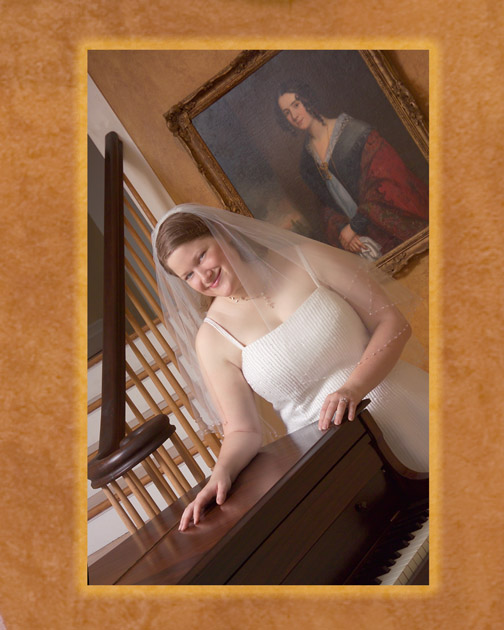 One of Gary's favorite bridal portraits above, his daughter Tessa! (who was married June 3, 2006 at the Florida Aquarium in Tampa.)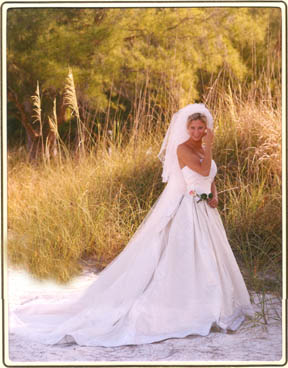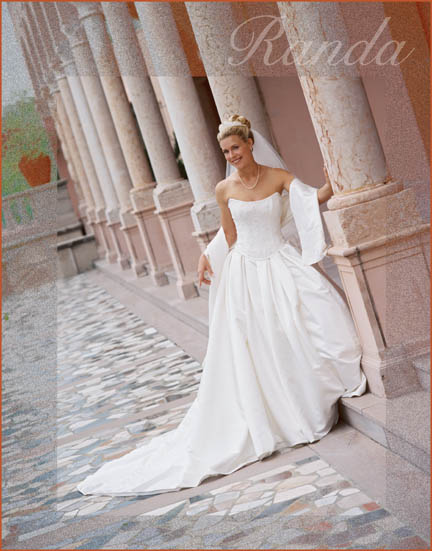 The Ringling Loggias provide an elegant, timeless backgound.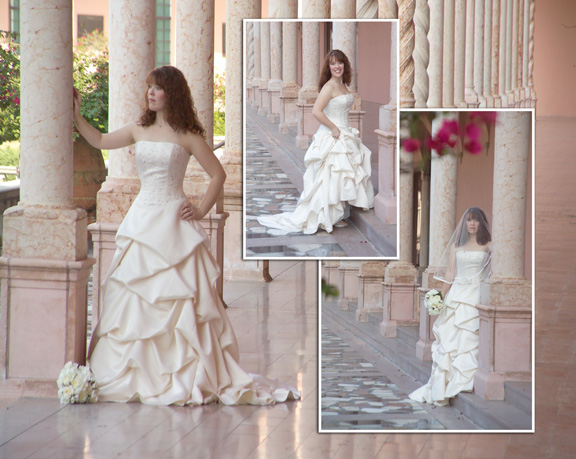 We like to say, "Gary is like a great chef...just tell him what you want him to cook. "The examples above and below really illustrate that...from a digital composite to the very "fashionable" sepia.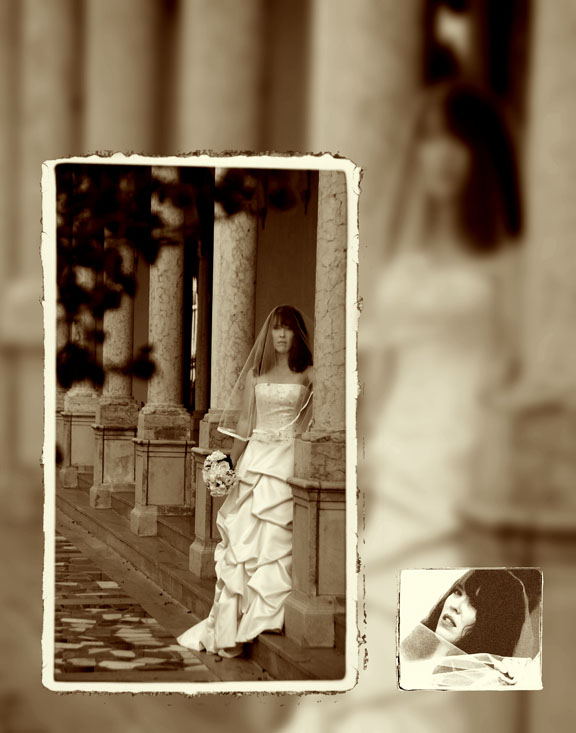 The bride is also a music instructor...antique score on the piano.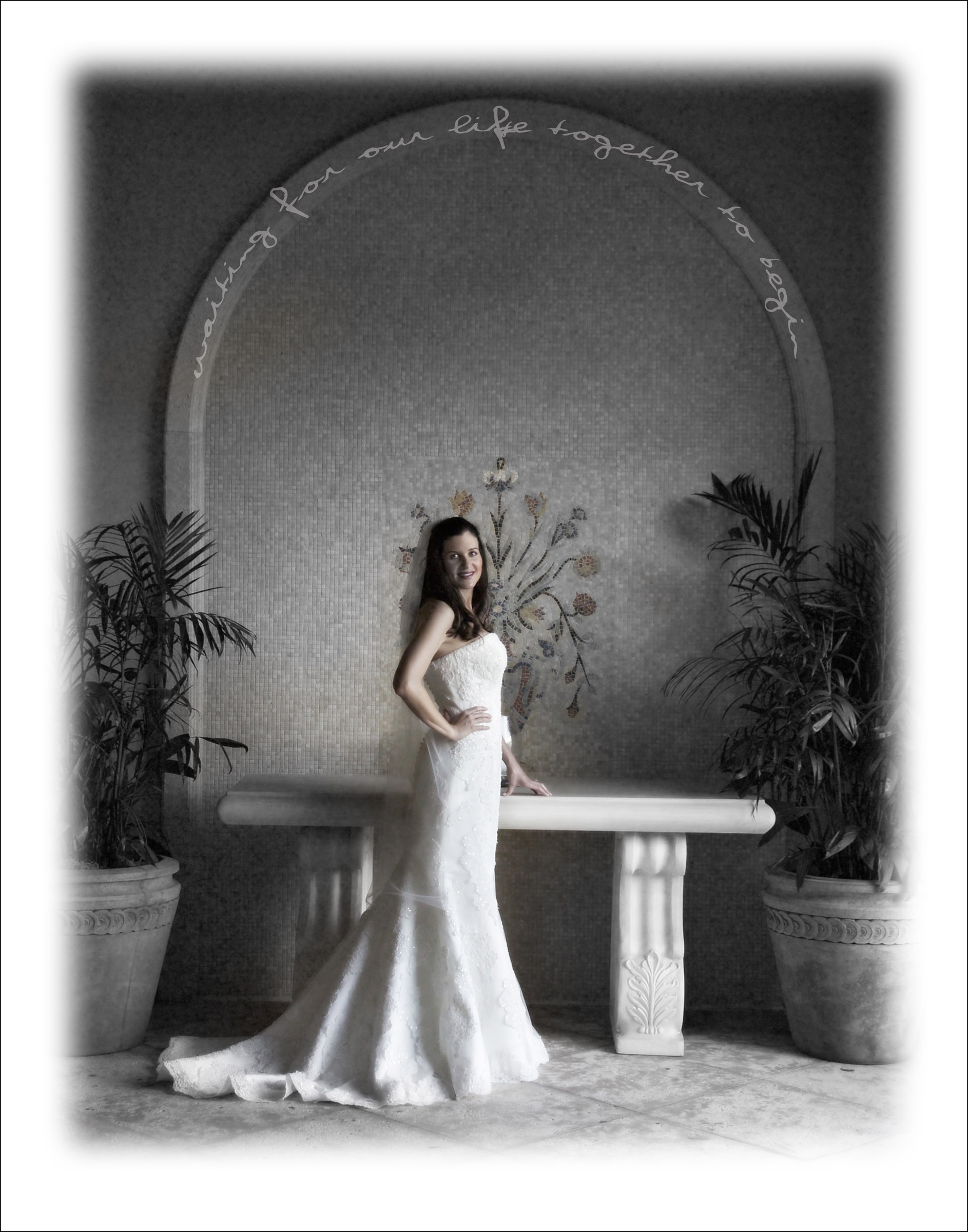 The Ritz Carlton was the site of the wedding....it was a natural for this Bridal Portrait as well. Now on to the wedding day....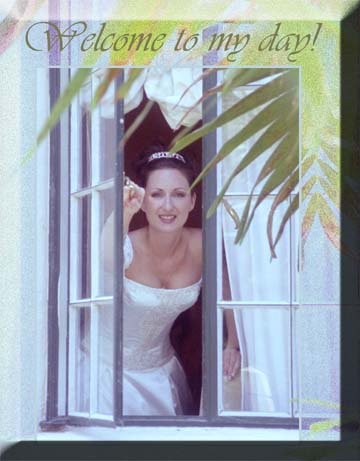 The same window (at the Powel Crosley Estate)...above and below. 2 entirely different feelings.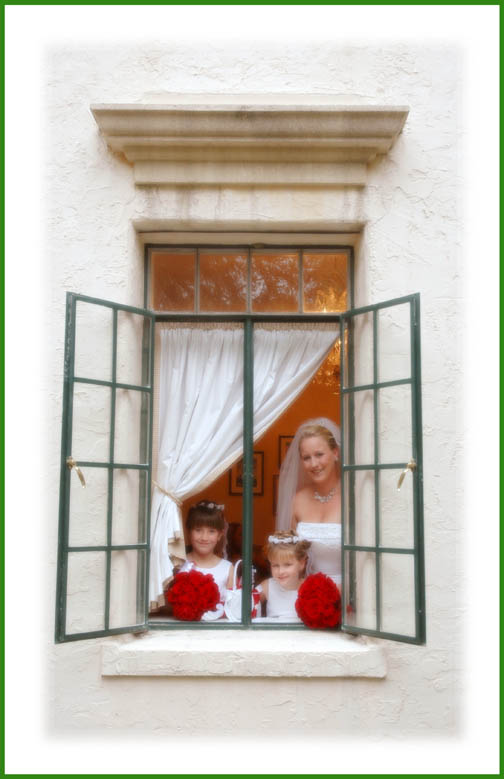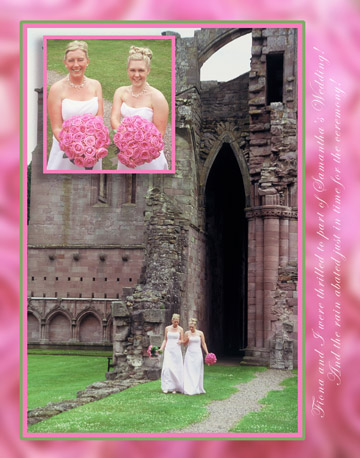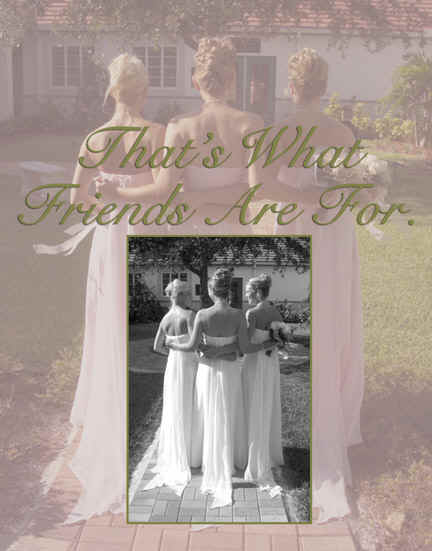 Your bridesmaids are an important part of your day...often those friendships last a lifetime.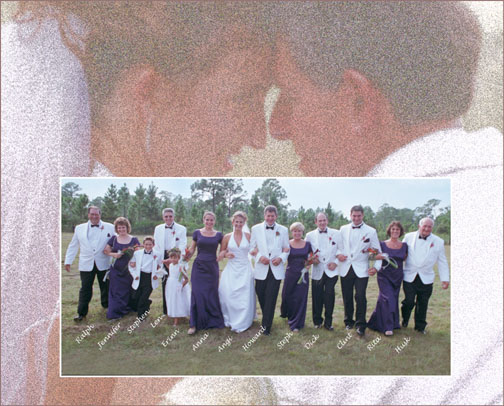 Above: Note the friends names in the foreground!
Below: Gary photographed a spectacular wedding at the Official RAF Church, St Clement Danes, Strand, Westminister, London this summer. Some of the B&W images are on our Photojournalism page.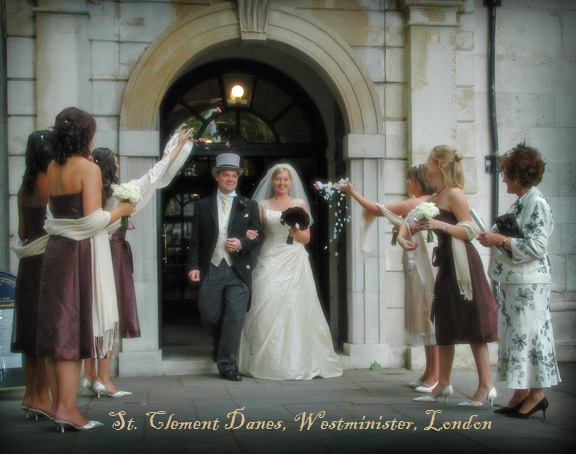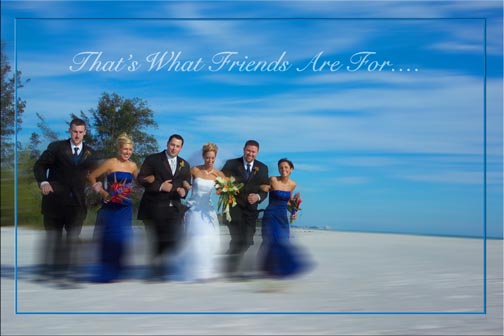 Off to the reception!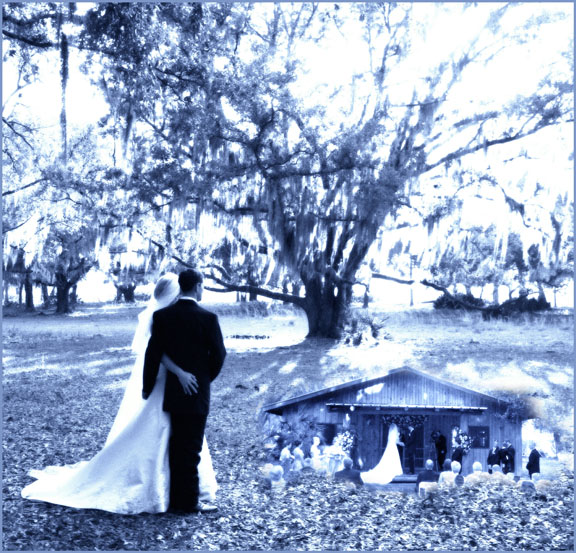 Note the ceremony nestled in the foreground as this couple ponders their future.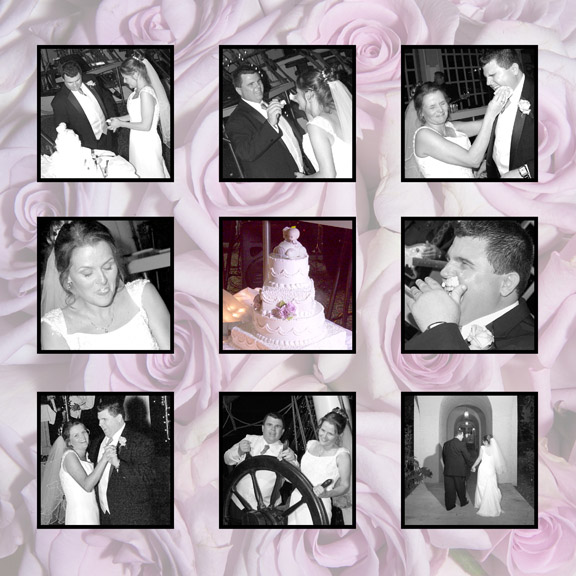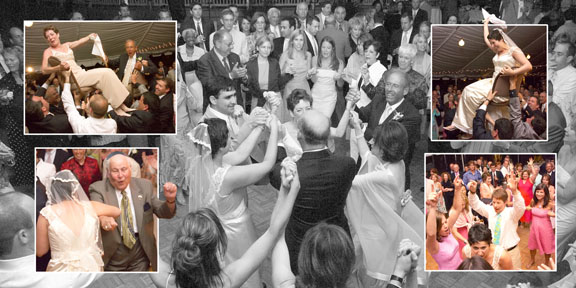 A recent fun wedding at the Colony....doing the Hora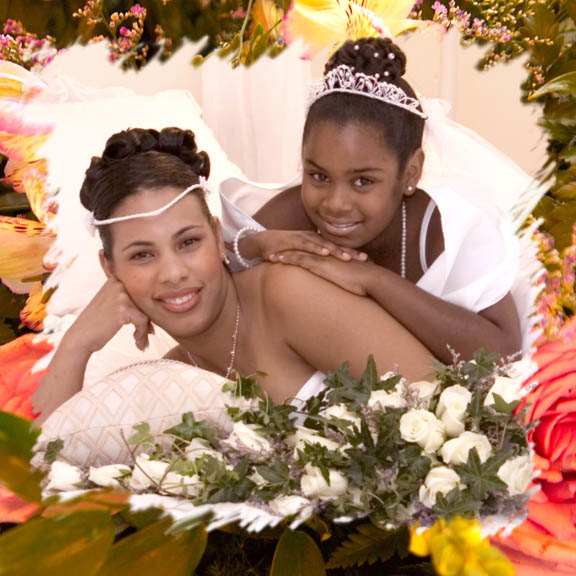 The above composites capture the essence of the moment.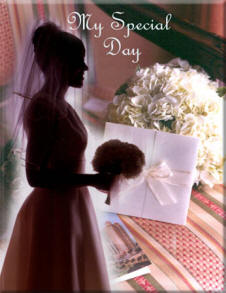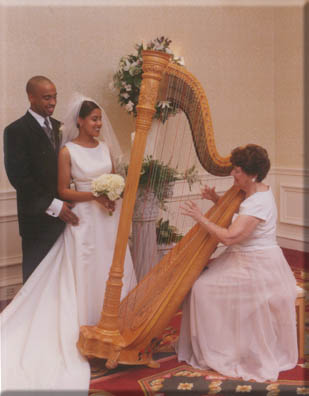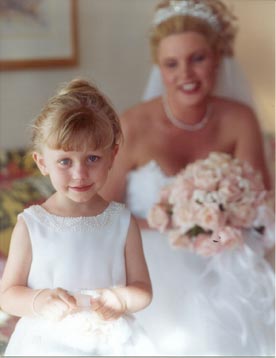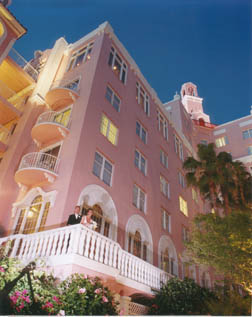 Note the Bride and Groom lower left in this dramatic (and difficult) photo at the Don CeSar in St. Petersburg.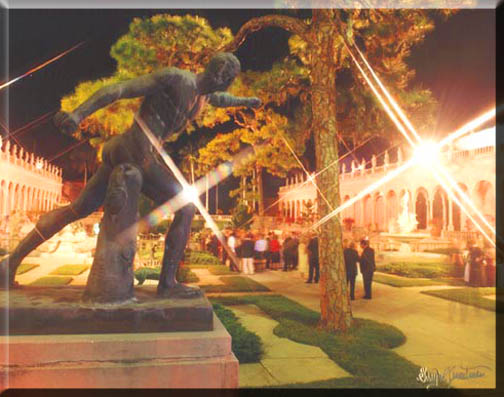 What an amazing feeling at the Ringling Courtyard at night!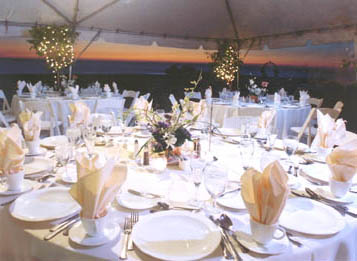 Sunset at the Colony...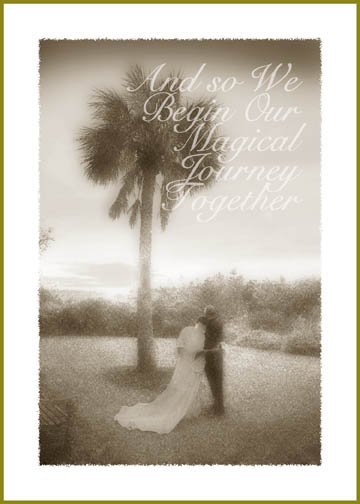 This magical image says it all......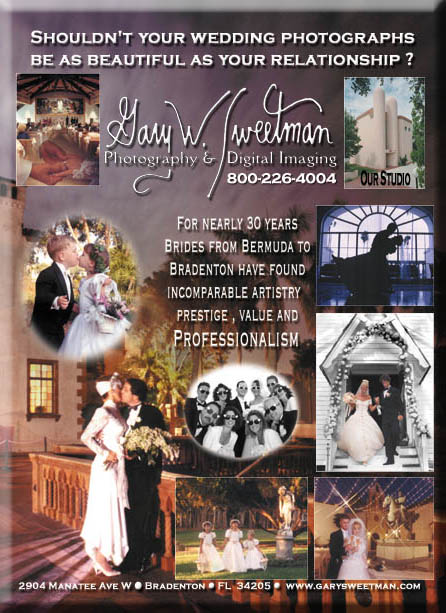 Above is a copy of the full page KNOT ad that ran ten years ago in 2001. Dress styles change, but an artist's attention to detail, careful lighting and making you look your best is always our first priority.
Our first year as a featured artist with THE KNOT was 1998 (thirteen years ago!....and this was our ad. Styles change, but a true artist's ability to see and create remains timeless.
Click to see>Photojournalistic Coverage: Our Philosophy and Packages.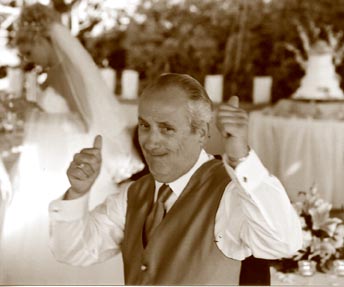 Selected images or your entire proof book can be viewed by family and friends through our web posting. It is a great way to share the magic of the day... and unlike many photographers, we leave our Proofbooks Online! for a year.
Want to see some local places for weddings/receptions/Bar & Bat Mitzvahs/rehearsal dinners? Referrals, contacts and lots more great pictures? Click here> Locations.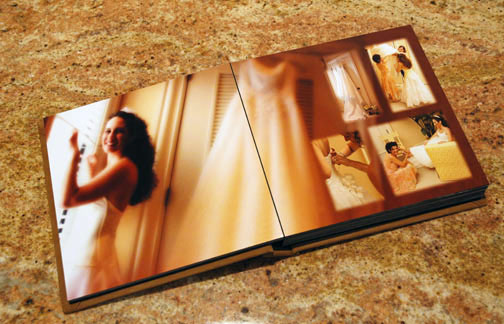 Be sure to see our ALBUM STYLES Page. Below is an example of our new family pack.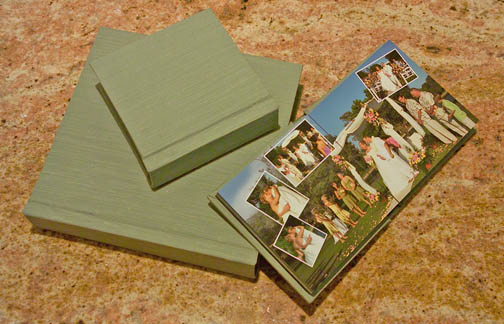 Back to Home>Professional Photography and digital imaging in Southwest Florida and Tampa Bay, Lakewood Ranch, Sarasota, Bradenton, Longboat Key
Sophisticated, high profile Southwest Florida Destination weddings, Professional mannered, well spoken photographer, real studio, photographer with studio, Ritz Carlton recommended, Longboat Key Club recommended, Waldorf Astoria Naples recommended, older first time bride, celebrity bride seeking discreet professional photographer.