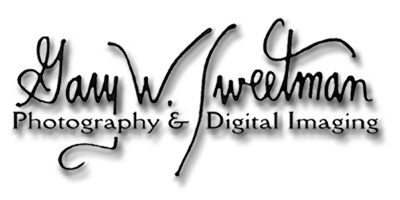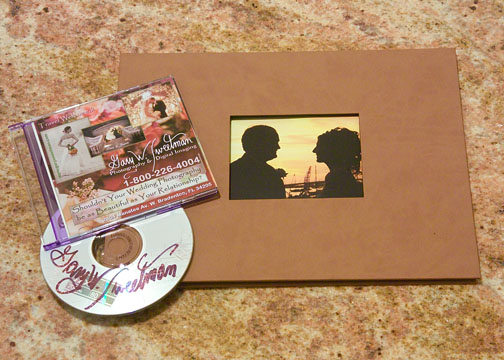 This is an immensely informative page! Please note the quality imagery as well as the exciting professional book-bindery. Almost all our plans include a bound proof book (your to keep at no extra cost) AND all your images on an ordering CD. Internet sharing is also available...you can see some actual weddings by going to>Proof Books Online!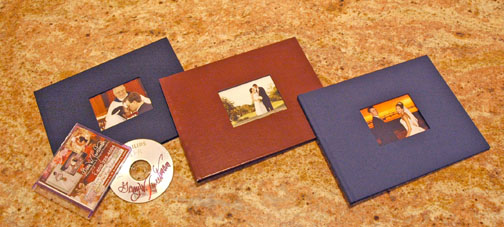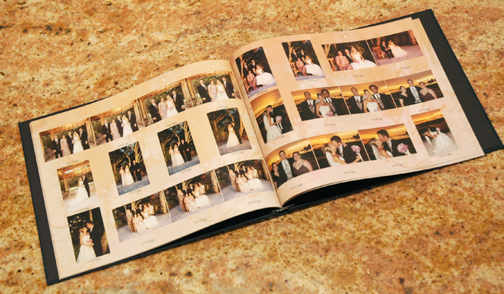 All images are included on beautiful, custom background pages. And this is JUST THE PROOF BOOK! Look at our final albums....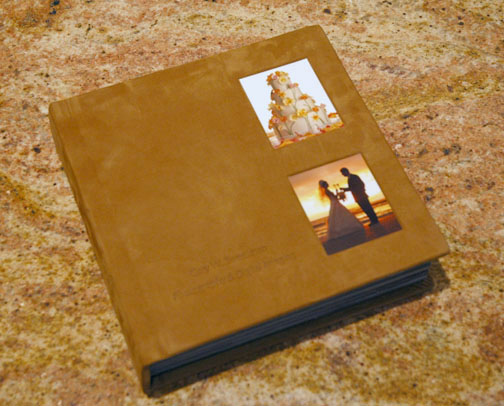 Our Coffee Table books (Library bound in leather, cloth, or some very rare Oriental silks) are included with our Concerto, Rhapsody, Symphony & Masterworks plans. We proudly use AlbumCrafters as our book binder. They are one of the finest in America with amazing attention to detail. Cut-outs or cameos are available for the cover.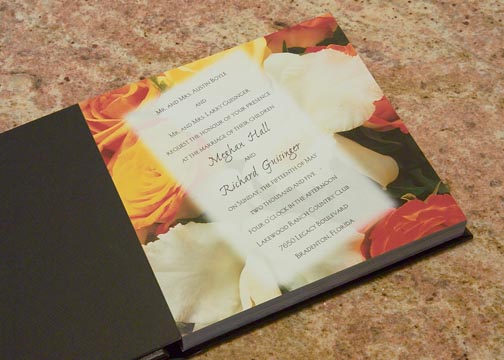 You can see that each page is flush mounted to the edge of the book and carefully coated with protective spray.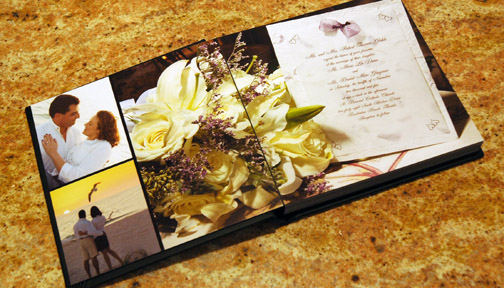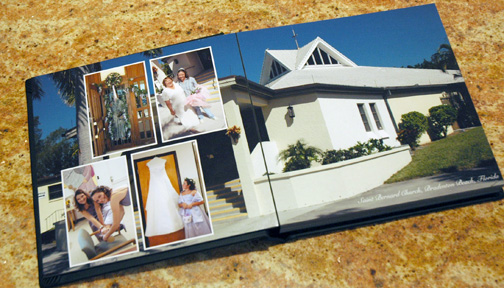 Notice how we start with the couple's lifestyle images. It's the perfect segue into the wedding day. All our backgrounds are taken from the elements of YOUR wedding...and individually created for you...not dropped in some template that looks like a thousand other brides!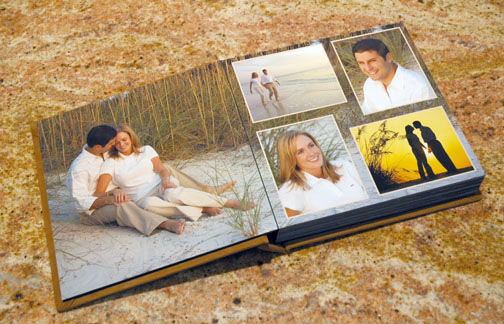 Knowing this couple was looking for an engagement composite, we pre-planned the extended sea-oat background on the right page.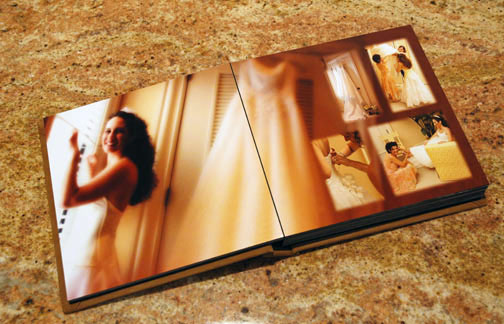 This style offers ultimate size, shape and text possibilities.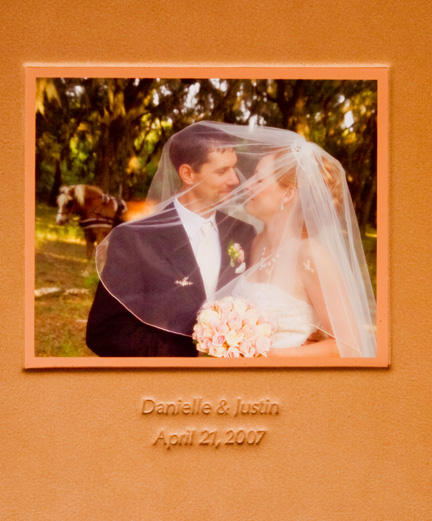 This beautiful suede book offers "branding" of your name and date and multiple photo inset possibilities for the cover. We can produce virtually any size book!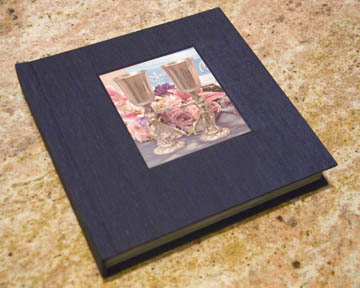 Above is a gorgeous album in Japanese silk! We don't charge for this upgrade! And below is a close up of it.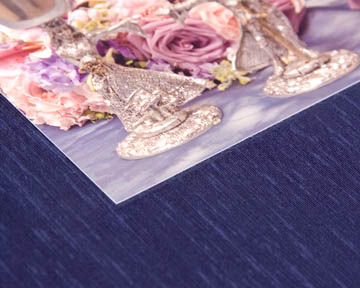 Note how the close up of her flowers flows across the pages.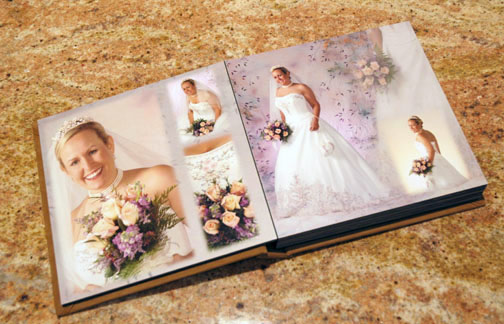 A selection of details and formal bridal portraits as treated in their album.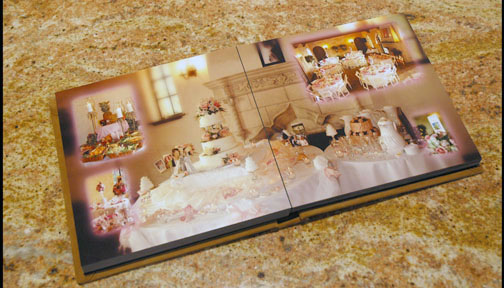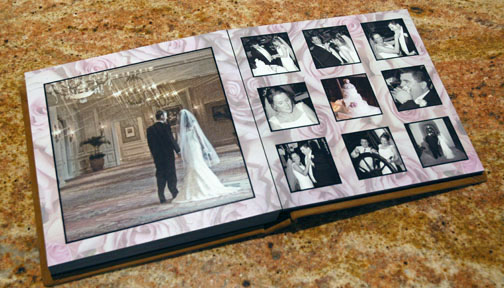 The Ritz Carlton Loggia with her bouquet as background.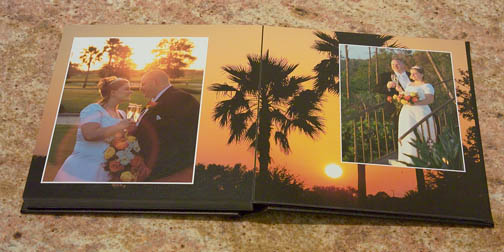 The background in this panorama is the actual sunset behind our couple at Lakewood Ranch Country Club...and below, another LWR bride getting ready....note the little touches that the photojournalistic style shows in capturing the details of this event.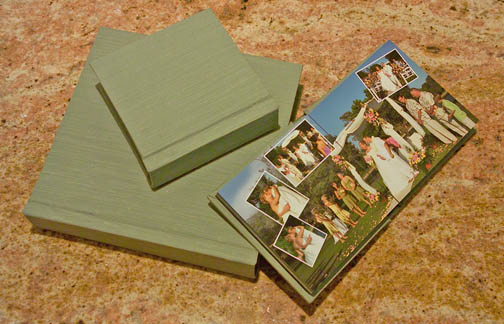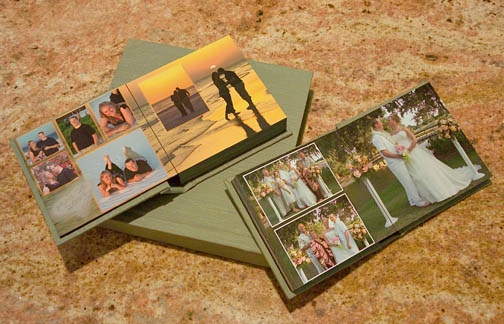 Above are our new "family pack" books. 5x5 or 6x6 "Clone books" of your album at a very special price! The above 3 books were done in a celery Japanese silk.
And now, our 10x8 books...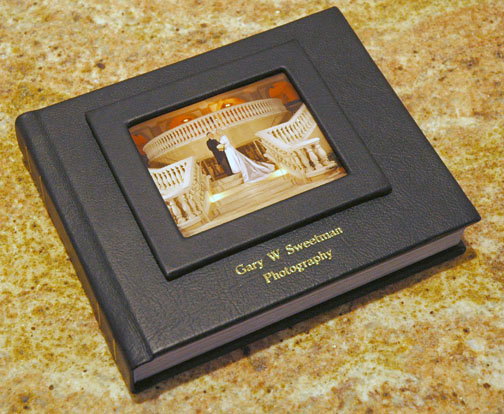 Yes, 10x8, not 8x10....so you get this great feeling of "widescreen" photograpy. These books are very popular with our brides looking for a smaller outside dimension without sacrificing the artistic integrity with the ability for composites.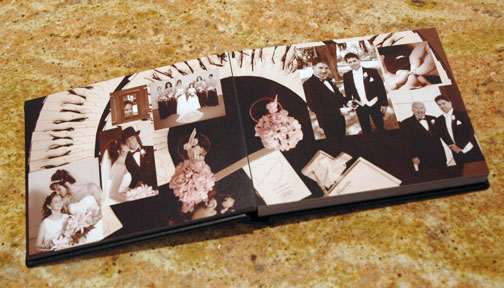 A sepia two page spread with pink tones added.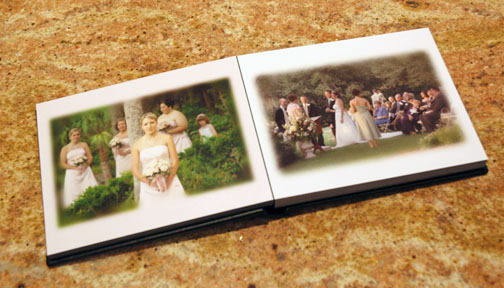 The soft white edges enhance the mood.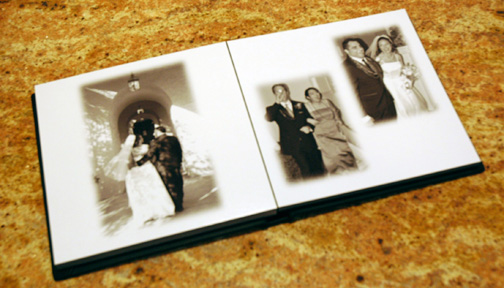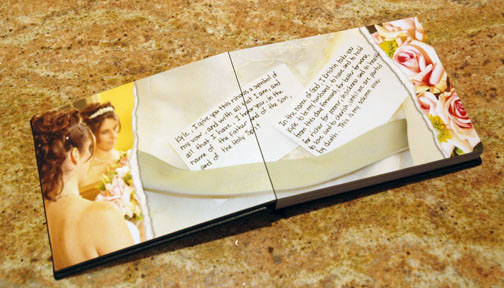 Yes, those are their "cheat sheets" of vows neatly tucked in her dress.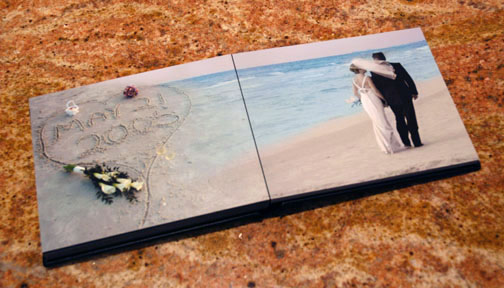 A gentle, blended composite.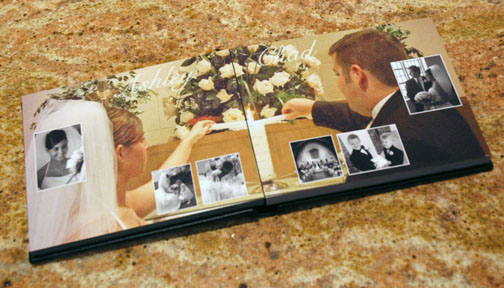 The black and white insets are very effective to tell their story.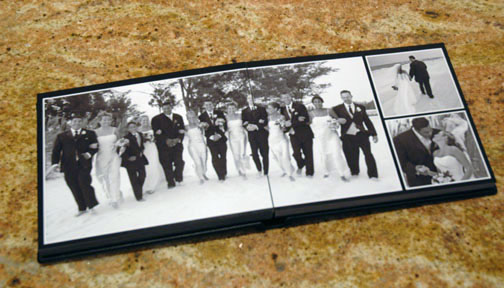 What fun they had, even in the rain!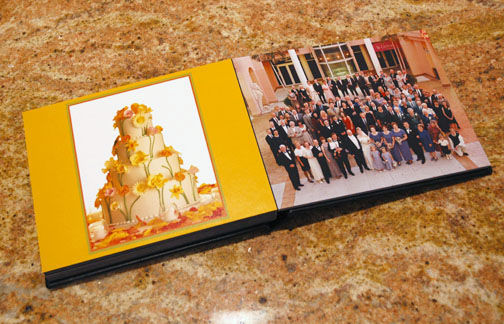 It's rare to get the entire reception in one photo (people usually are not that cooperative) but the panel on the right shows it CAN happen.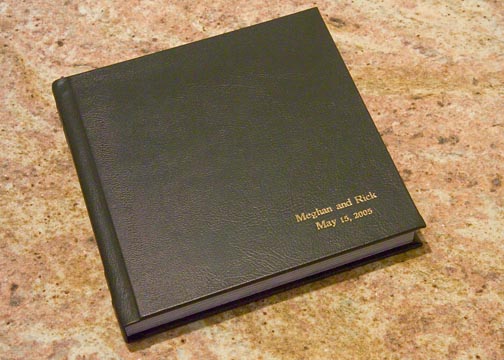 Above, a simple 10x10 coffee table book without an inset or cameo.
And now the Classic...our traditional Art Leather Book. Some completed Art Leather albums @ The Ritz and @ The Vinoy may be seen through the links at the top left of this page.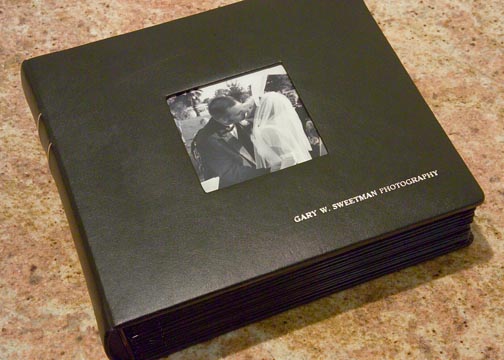 ...shown with a cut-out. These books are larger as they have mats to hold the photos.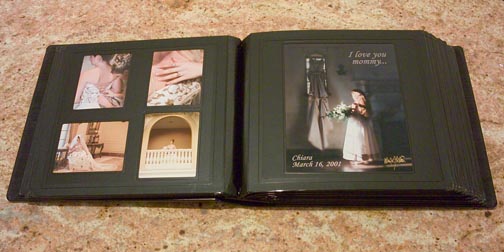 Most often is a mix of 4x5 and 8x10s, but many brides include 5x7s.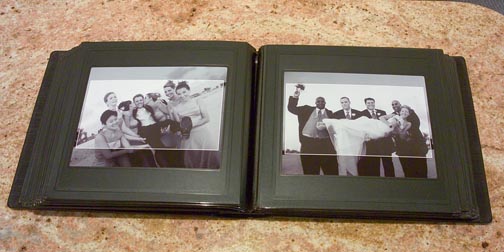 Note how these two photos relate to each other...it forms a panorama effect but each are matted...a true panorama is shown below.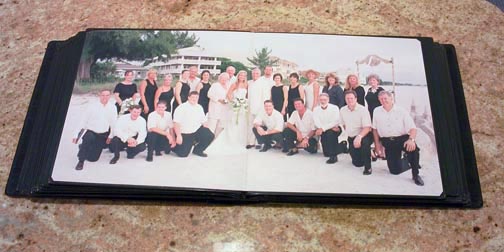 This is actually a 12x24 print with an unbroken seam. Very Impressive!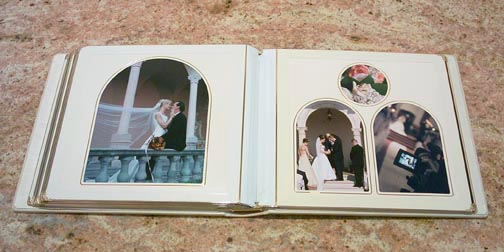 All our albums are available in many colors. The arched mats compliment these images. Your Art Leather album may have a mixture of rectangular, square, oval, octagonal & cathedral topped mats. Mr. Sweetman personally supervises the creation of every aspect of every album. You can see a complete Art Leather Collection album from a wedding at the Ritz Carlton, Sarasota, Florida here>Art Leather @ Ritz
Learn more at our price list> 2008 Wedding Price List
Back to home>Professional Photography and digital imaging in Southwest Florida and Tampa Bay, Lakewood Ranch, Sarasota, Bradenton, Longboat Key