Our custom designed KIDS 'N SENIORS plans offer you a terrific opportunity to have a Gary W. Sweetman portrait at a fraction of our regular costs. The possibilities are endless for creating an exciting portrait reflecting your interests and lifestyle. We have an almost limitless selection of studio backgrounds and props to make your portrait really unique! Black & White, Tones (like Sepia or Blue and White) are also available as are hand-tinted photos.
The Basics: Studio sitting, basic retouching on head and shoulders or 3/4, single selection of background, and your choice of the following: 1-8x10 or 2-5x7 or 4-4x6 for one pose for only $129.95
(perfect for Cap & Gown)
Our Regular Sitting: Three looks! 2 clothing changes are included. Our studio or nearby environmental (park, outside your home, etc) head and shoulders, 3/4, or full length. It can be with your pet, friend, hobbies, etc! This session also includes a clothing change at no charge. Photos with elaborate props, cars or motorcycles in-studio have an additional fee. These photos include basic retouching on a single image and your choice of: 1-8x10 or 2-5x7 or 4-4x6 for one pose for only $179.95 – or your choice of up to 2 as web-share files. (Instagram/Facebook)! Extras: Additional clothing changes, addition or deletion of subject, mixing in studio and environmental, interiors other than studio: add $59.95 This also includes our fabulous retouching on a second image!
Travel: Beach, most Bradenton parks and homes west of I-75....add $55
Stylist: We have a professional hair and makeup stylist available. Ask to see the
sample prints showing before and after...you will be amazed! from: $89.
OUR SUPER KIDS 'N SENIOR PACKAGES!!!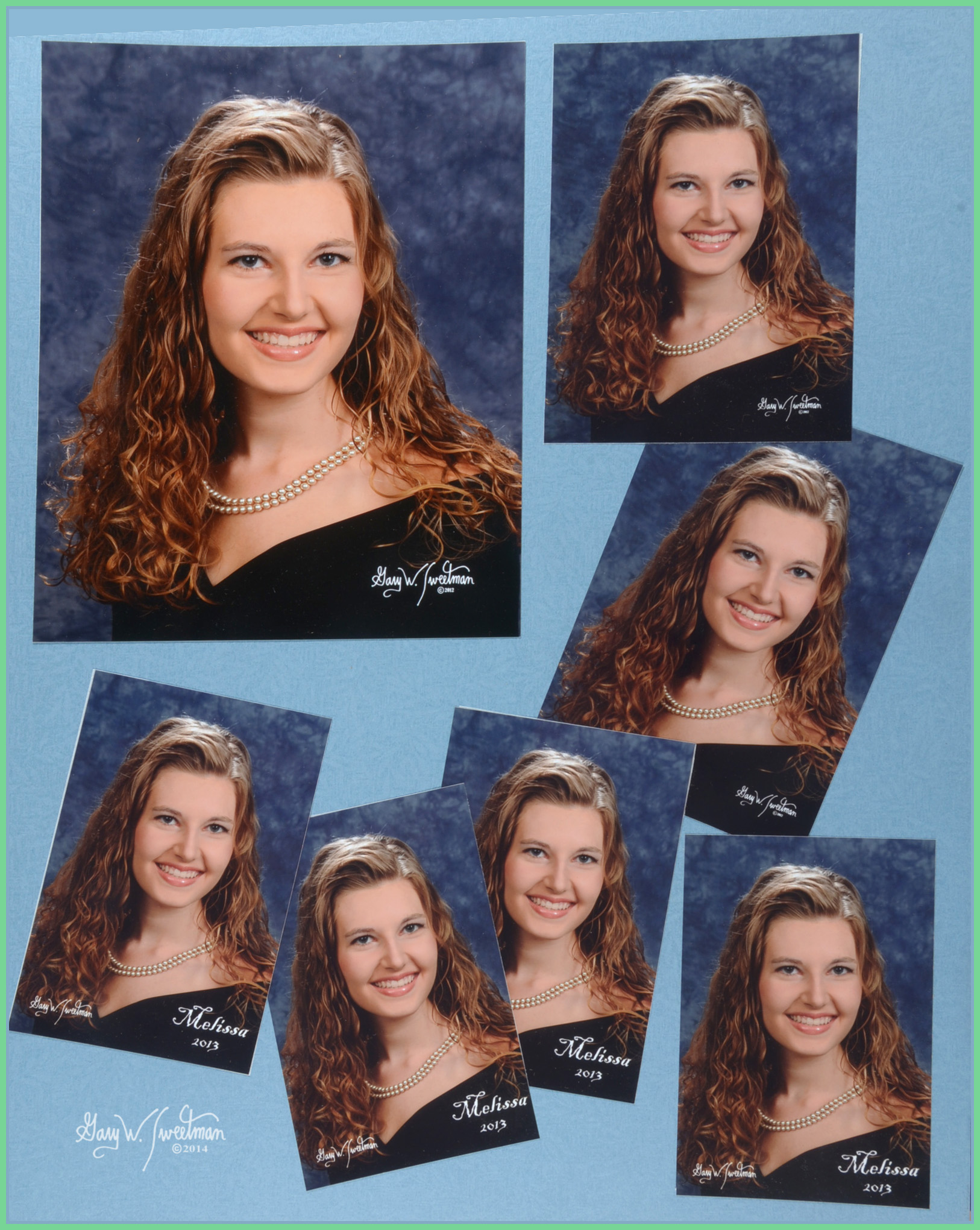 Each package contains Three print units – a unit is 1-8x10, or 2-5x7, or 4-4x6. Examples of a three-unit (like THE FRESHMAN) order are: 2-8x10 and 2-5x7, or 1-8x10 and 8-4x6, or 4-5x7 and 4-4x6. Get the idea? Each package must be from one pose. Multiple packages (like Pick any Three) can be from 3 different poses. Each 3-unit package below may be a different pose.
T
The Graduate: Pick up to 7 poses: (15 UNITS) (Value to $1180.00) for only $449
The Senior: Pick up to 6 poses: (12 UNITS) (Value to $964.00) for only $379
The Junior: Pick up to 4 poses: (9 UNITS) (Value to $748.00) for only $299
The Sophomore: Pick up to 2 poses: (6 UNITS) (Value to $532.00) for only $219
The Freshman: Pick a single pose: (3 UNITS) (Value to $216.00) for only $129
Your signature/date is available on any print for only $9.95/pose. (It will appear on all of the prints chosen from that pose)
Retouching is available from $29.95 on additional images. We can even eliminate braces! (additional cost)
Our regular, custom prints, mounted, sprayed, and minor artwork inc. at a terrific discount!
INCREDIBLE SAVINGS ON WALL PORTRAIT ADD-ONS
(valid with purchase of any above packages)
30x40, Reg. $1199 24x30, Reg. $899 20x24, Reg. $699 16x20 Reg.$599
ONLY $599! ONLY $449! ONLY $369! ONLY $299
REPRINTS....REPRINTS...REPRINTS......REPRINTS....REPRINTS.....REPRINTS....REPRINTS
11x14 or 8x16 Long Print Special $79.95*
8x10-$38.95 5x7-$28.95 4x6-$17.95 wallets-singles-$7.95 or 8-$29.95 or 48-$99.95
* Mounting and Lacquer Spraying (eliminates the need for glass) only: $24.95 (FREE on wall portraits)
Specialty portraits with blends or composited backgrounds are priced higher on an individual basis.
WALLET SPECIAL ADD ON: 48 wallets (one pose) with any package purchase JUST $59 or with any wall portrait purchase just $39. (you can mix B&W & Color wallets)
Images on CD: (Facebook & Web-Sharing resolution-you cannot print from these files) First image: $18.95 (retouched, if previously ordered as prints) SLIDESHOWS set to Music: Ask to see some examples. They start @ $199 with MP4 webshare included. GRAD Cards-4x8 Custom cards & envelopes for Celebration Invitations. 2 photos & custom text. School logo and/or University choice logo if desired. Design & first 25= $79.95. Additional cards & envelopes $1.99 each. 2 sided and 5x7 cards are also available.
Senior Books/Senior Pages/Photo/Illustrations/Composites/Watercolor Fantasies and Canvas Wraps-
State of the art technology blends with the centuries old technique of handmade papers and canvases to create an art piece uniquely yours. Reminiscent of Monet's water lily paintings, the delicate tones and textures of a watercolor palette stylistically enhance each custom piece. In addition, we offer digital composites that can beautifully combine multiple heirloom images, text & even existing photos,

blending multiple images of you, your loved ones, and even objects – like awards – into a unique portrait to be treasured for generations. Our digital composites begin at just $95 with 3 images and one line of text – in addition to your print costs. For

Senior Pages

in yearbooks, we often incorporate childhood family photos and dedication lines of text. Wall portrait 1 ˝"

Canvas

wrapping starts @ $99.(+print)

Senior Books

: A wonderful way to remember your senior year. 8x8 & 8x11 hardcover books with twenty pages are $499 with additional pages including design $29. Duplicate books (thank you gifts?) are only $99.
About the Artist
Gary W. Sweetman Photography has been serving its clients since 1971 with outstanding portraiture and innovative commercial photography. His exciting style of contemporary portraiture was born from a background of fashion and theater photography. He was production photographer for Asolo, the State Theater Co. of Florida for 15 years. He was one of only 11 people, since 1957 to receive his "Q" degree from the Professional Photographers of America for excellence in Theater Photography. He also holds his C.P.P degree from that organization. His commercial photography has appeared in G.Q., Women's Wear Daily, Architectural Digest, The Wall Street Journal, Progressive Architecture, Time, Architectural Record, Estates, Unique Homes, and many other regional publications and trade magazines. Mr. Sweetman is a sought after judge and lecturer, giving seminars to professional peers everywhere, including Stockholm, Sweden on contemporary fashion lighting techniques. We were voted (again) the #1 Studio in the 2013 Bradenton Herald Reader Poll and #1 in the2014 and 2015 Sarasota Herald Tribune polls. We welcome the opportunity to create your portrait. 2021 marks our 50th year of quality, value & professionalism.
Back to HOME>Professional Photography and digital imaging in Southwest Florida and Tampa Bay, Lakewood Ranch, Sarasota, Bradenton, Longboat Key